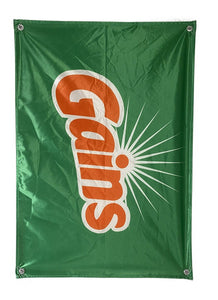 GAINS Gym Flag
Regular price $28.00 Sale
You knew this was coming, right? Well here they are... GAINS flags for the walls of your garage gym; offered in two different sizes so that anybody can find wall space for one in their gym. These are bright, eye-catching, and motivating. Get one to match your GAINS shirt or tank top.
Working on getting higher-quality images. 
Flag dimensions are 2'x3' and 3'x5'.
Manufactured with high-quality 200D polyester.
Flag has grommets in all four corners rather than just two.
Green flag with vibrant, white and orange print (one-sided, mirror image).
All purchases help fund future equipment reviews on garage-gyms.com.

As always, I appreciate your support of Garage Gyms. Without your follows, likes, shares, and store purchases the site just would not be as comprehensive & popular as it is today. Thank you so much!